CHI 2005 Development Consortium
April 3-4, 2005, Portland, Oregon
Summary
About the DevCon
This two-day meeting brought together people from many different user experience organizations to talk about how practitioners and organizations can work together.
Richard Anderson organized the meeting as part of the CHI 2005 conference under the title "Meeting the Needs of the Multidisciplinary Professional and of the Multiple Professional Associations and Events of Importance to Them."
The goals for this meeting (from the call for participation) were to bring together a mix of people to:
develop a deeper understanding of the problem and barriers to its solution
examine a mix of potential or partial solutions that have been or are being attempted, or are being considered
examine a mix of (partial) solutions developed for similar problems in other domains
generate new ideas for solving the problem
establish relationships and a roadmap to facilitate problem solution
The abstracts of the development consortium submissions give
a sense of the various approaches presented at the workshop. These position papers provided the basis for engaging and thoughtful discussions.
The results of the workshop were presented in an invited panel, also called "Meeting the Needs of the User Experience Professional". The slides for the panel gave background information and prompted a lively interchange between panel members and audience.
Participants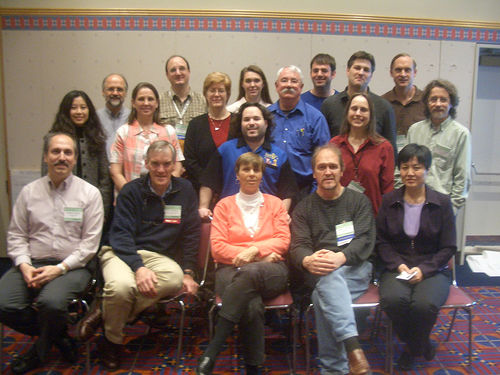 Participants in the Development Consortium included representatives of many organizations and disciplines. (Many of the participants voiced viewpoints from more than one organization; they are listed with their primary affiliation.)
Nick Finck, Keith Instone, Nico Macdonald and Pabini Gabriel-Petit were UXnet volunteers who participated in the consortium (without a primary affiliation).
Other organizations were invited, but not every group could send a representative. For example, The IA Institute was not officially represented but several DevCon participants are IAI members and IAI came up in the discussion. See Peter Boersma's blog entry (and comments) for more information.
Position papers
The position papers formed the basis for extensive discussion of the issues and challenges facing the organizations and their members. The following position papers were published in the CHI 2005 Extended Proceedings.
Three of the position papers were about UXnet and our early initiatives.
User Experience: An Umbrella Topic (PDF, 140K), Keith Instone
UXnet: Making Connections (PDF, 320K), Whitney Quesenbery, Richard Anderson, Beth Mazur
Local Ambassadors: Local Action/Global Impact (PDF, 110K), Dirk Knemeyer, Nick Finck, Matteo Penzo
A group of position papers were about specific organizations.
Other position papers were about specific issues that need to be addressed to serve UX professionals better.
Activities
The first day of the Development Consortium focused on issues described in the position papers.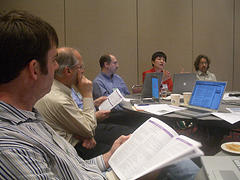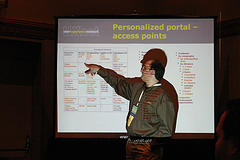 Photos from the discussion
On the second day, we started addressing issues from the first day. This included creating UX professional roles and scenarios.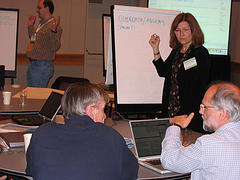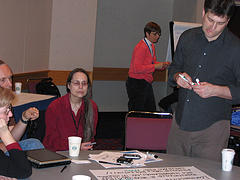 Photos of the role and scenario brainstorming.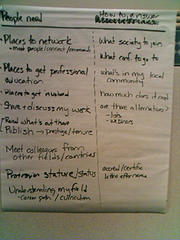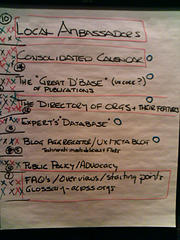 Flipcharts showing user needs and initiative-voting results
A panel on the following day allowed us to present the results of the Development Consortium to the CHI conference attendees.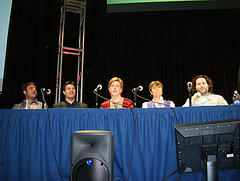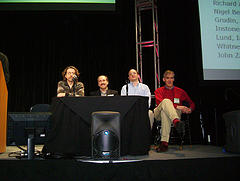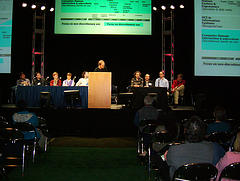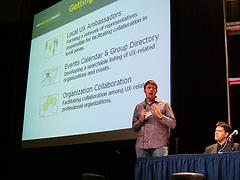 Photos of the panel
Other reports
HFES Bulletin, May 2005 (PDF, 150K), page 5, "2005 Cross-Society Development Report" by Arnold M. Lund and Lynn Strother
AIS SIGHCI Newsletter, July 2005 (PDF, 950K), page 11, "CHI '05 Trip Report" by Dennis Galletta, Ping Zhang, and Fiona Nah
Links to related information